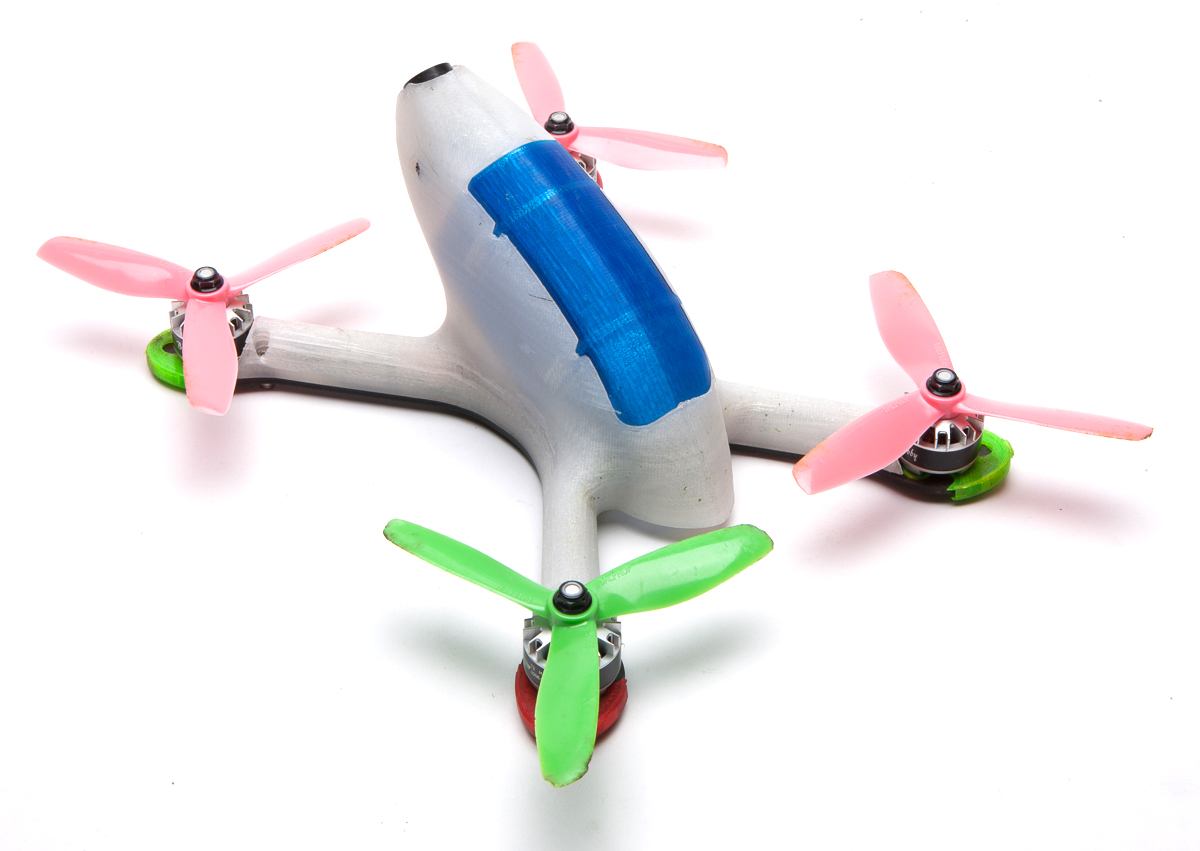 A while back I tried to mod an Orca with a huge pod in an attempt to put the battery on top for good z-axis cg. It was drawn to enclose the battery for a super clean aero exterior, because I've always disliked exposed batteries and power leads. Unfortunately the pod had other issues so I only flew it once and abandoned it. We jokingly called it the Capybara for its ungainly looks.
Months later I made Bigwig and Corgette, two frames that have good z-axis cg with a hybrid flat carbon/TPU pod approach. Some team pilots fell in love with they way they flew, and it totally makes sense. When a bottom heavy quad slides hard into a turn that low cg wants to continue in a straight line and drive down the inside motors, which in turn have to spool up to fight this pendulum effect. A perfectly balanced quad wouldn't have to deal with that, and some pilots found that they could get around the track much more confidently on Bigwig than a bottom battery frame.
Even more months later, as I was messing around with plus quads, I decided to take another shot at a clean internal battery balanced frame. Capybara had a bit of a half assed battery bay, so this time I decided I had to think that through a lot better. The first thing I drew up was a full 3d printed frame with an angled battery. The battery pod would hook into the front of the battery, while the back of the battery would simply rest on the base of the frame. It would slip under a lip in front and be screwed down in back.
I was working on Micheru at the same time, and given my troubles with that, I never built up this frame. Better stick to a carbon base/3d pod combination a la Mifune. The latch and screw system was cute, but it looked like it would stand no chance against the force of an ejecting battery in a crash, so that has to be rethought as well.
So here's the pod for version two. The first frame was intended for a 4in1 esc, but now with an two piece design I went with individual esc's in the arms. Emax had just released the Bullet, a tiny 30a dshot ready esc, so I drew the arms to house them vertically for minimal drag.
The battery pod now runs the full length of the battery, and it slides into the main frame along guide rails. I made snap tabs to keep it locked in the frame, which would have to double as pushing points for removing the battery.
I printed just the battery area so I could quickly refine the snap fit, and got it to mesh pretty damn well.
Then it was time to print the whole enchilada and fly it.
I made the fillets around the side arms a bit too big, and they were dangerously close to the tips of the props. Quick fix, Racekraft 5051's and their raised blades. The first flight lasted about 3 seconds before an esc popped. I replaced the esc and took it back out a few days later, and this time I got about 10 seconds in before an esc popped on a roll.
There was another problem with the frame. With the battery pod on top there was no room for vtx or rx antennas. And with a prop in the rear, I couldn't run them straight out the back either. While testing I simply left them inside the pod and got terrible video but no RSSI warnings. It seemed that the plus configuration wasn't the greatest for this.
So the next iteration was a stretch x. I did away with the snaps for the battery pod, instead printing it in TPU. With TPU's flex I could have really tight tolerances between the two parts and get a decent friction fit.
I also ended the baseplate short of the tail of the pod for a dual purpose open butt: a carbon-free zone for antennas, and a hole to push out the battery proctologist-style. I had run a Pagoda inside Micheru to mixed results, so with limited space here I just used a whip. Video wasn't great, but it was totally flyable.
This was another one of those designs where I didn't have a strong preconceived notion of how it would look, but instead laid out the components and connected the dots as well as I could. The result was homely at best. The guys compared it to various dopey looking animals, but for me it was the spitting image of this anteater:
Thus it was dubbed Camba, or Come At Me Bro Anteater.
The Emax Bullets were failing at too high a rate, possibly due to the high pitch Racekraft props or the frame's lack of ventilation, or a combination of both. I switched to DYS 5040 and DAL 5045 semi bullnose tri's and I was finally able to pump a few batteries through the setup.
The battery pod worked relatively well, but it wasn't easy shoving it all the way in. Turns out that power leads take up way more space than I ever anticipated. 1300 R-Line Tattu's, with their short leads, worked out best. The fit was tight enough that it was difficult to extract the battery, but not enough to prevent ejections in crashes, so I resorted to putting a piece of tape over the top. So ghetto, but so effective.
How'd it fly? Well, it's 90 grams heavier than Flaco, so there's that. It has the uneventful rolls of a well balanced quad, you can see that the FC isn't fighting anything. It's a real convenient practice quad just 'cause it preserves batteries and antennas so well. Video with a whip was inferior but more than acceptable, and I never lost rx connection despite the totally haphazard placement of rx antennas inside the pod, partially shielded by carbon.
So what's next?
Picture a typical miniquad. Now picture anything else that goes fast, whether manmade or natural. It's plain to see that miniquads look nothing like fighter jets, F1 cars, hawks, marlins, sharks, you name it. I'm obsessed with creating something as sleek and efficient, going from the Aeropods to Mako to Orca to Mifune to Flaco.
Camba's an interesting next step, but far from finished. I'd love to lose all that empty space inside the pod, but it's extremely difficult to do while avoiding the high drag H quad form factor. I'd also love to find a better solution for the battery, possibly shortening the lead way down and strapping it to the battery itself, so that it plugs in as the battery's being pushed in.
And of course, there's the weight. It'll take some doing before its thrust gains (skinny aero arms), drag reduction (aero main pod), and superior handling (proper z axis cg) offsets its 570g AUW. It'll be almost impossible to make something that'll outperform Flaco, but I'll keep trying. Stay tuned.